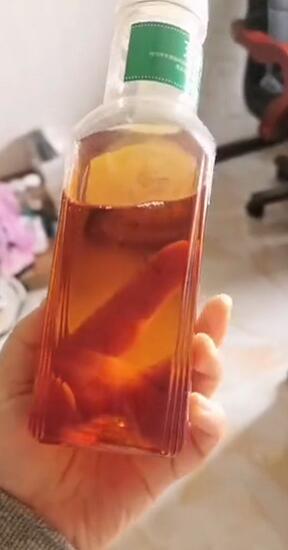 Introduction
(丁二酸双二乙氨基乙醇酯柠檬酸盐)
根据国内外的相关专利文献,特别是增产胺(DCPTA)和DA-6(胺鲜酯)的发明专利以及使用效果,根据相关专利及其对其衍生物的研究,结合化学合成反应,将参与三羧酸循环中的丁二酸与二乙氨基乙醇合成,即得到含有双二乙氨基乙氧基结构的具有高生物活性的化合物一一丁二酸双二乙胺基乙醇酯。其和增产胺(DCPTA)均为多官能团协效结构,丁二酸的生理活性与二乙氨基乙氧基的生理活性产生协同增效,使其具有更优良的植物生长调节作用,其主要通过对植物细胞超微结构及其功能的影响和对植物体内核酸、蛋白质、过氧化物酶含量的调节来有效调节植物的生长发育,具有生长素、赤霉酸、细胞分裂素等多种功能,具有促进生长、拉长、膨大果实、抗逆解毒、改善品质等作用,具有极好的广谱性。
化学名称:丁二酸双二乙氨基乙醇酯柠檬酸盐
结构式:
理化性质:原油纯品为无色液体,在空气中易氧化而变成棕黄色油状液体,原油可溶于大多有机溶剂;其柠檬酸盐为白色微鳞片状晶体,易溶于水,可溶于乙醇、甲醇、丙醇等有机溶剂,常温下稳定,有极轻微溶剂味。在中性、酸性介质中稳定,在碱性条件不稳定。
1、本品可以直接做成各种液剂和各种粉剂,浓度可根据需要而调配。操作方便,不需要特殊的助剂、操作工艺和特殊的设备。
2、在与肥料混用时,芳香环类化合物、腺嘌呤类等其它植物生长调节剂与微肥不具有兼容性,混用时需用特殊的溶剂、助剂、螯合剂和复杂的工艺。D2(丁双酯)可直接与N、P、K、Zn、B、Cu、Mn、Fe、Mo等混合使用,具有很好的兼容性,不需要有机溶剂和助剂等添加剂,非常稳定,可以长期储存,并且能提高植物的同化能力,加速植物对肥料的吸收利用,可以增加肥效30%以上,减少肥料用量10%以上。其增效效果超过其他增效剂10%以上。
3、与所有杀菌剂复配使用,D2(丁双酯)是弱酸性物质,可以与杀菌剂复配,具有明显的增效作用,可以增效30%以上,减少用药量10-30%。且实验证明D2(丁双酯)对真菌、细菌、病毒等所引起的多种植物病害,具有抑制和防治作用。
4、与杀虫剂复配使用,D2(丁双酯)是酸性物质,与杀虫剂复配,可以增加植物长势,增强植物抗虫性。且D2(丁双酯)本身对软体虫(如棉铃虫、菜青虫等)具有驱避作用,既杀虫又增产,达到一举两得的效果。
5、可作为除草剂解毒剂(安全剂),经试验证明D2(丁双酯)对大多数除草剂具有解毒功效,与除草剂复配使用,在不减少除草剂效果的情况下能有效防止农作物中毒,使除草剂能够安全使用。对于已中毒的农作物,可用D2(丁双酯)进行解毒,使农作物迅速恢复生机,减少经济损失。
使用量:叶喷10-50ppm,冲施、滴灌用量10-50克。
(diethylaminoethanol succinate citrate)
According to the relevant patent documents at home and abroad, especially the invention patents and application effects of DCPTA and DA-6, succinic acid involved in the tricarboxylic acid cycle is synthesized with diethylaminoethanol according to the relevant patents and their derivatives, combined with the chemical synthesis reaction, That is, a compound with high biological activity containing bis diethylaminoethoxy structure - bis diethylaminoethanol succinate was obtained. Both succinic acid and DCPTA are multi-functional synergistic structures. The physiological activity of succinic acid and the physiological activity of diethylaminoethoxy have synergistic effect, which makes it have better plant growth regulation. It mainly affects the ultrastructure and function of plant cells, nucleic acids, proteins The regulation of peroxidase content can effectively regulate the growth and development of plants. It has many functions such as auxin, gibberellic acid and cytokinin. It can promote growth, elongate and expand fruits, resist stress and detoxify, improve quality and so on. It has an excellent broad spectrum.
Chemical name: diethylaminoethanol succinate citrate
Structural type:
Physical and chemical properties: pure crude oil is colorless liquid, which is easy to oxidize in air and turn into brownish yellow oily liquid. Crude oil is soluble in most organic solvents; Its citrate is a white micro scale crystal, which is easily soluble in water and soluble in organic solvents such as ethanol, methanol and propanol. It is stable at room temperature and has a very slight solvent smell. It is stable in neutral and acidic medium and unstable in alkaline condition.
1. This product can be directly made into various liquids and powders, and the concentration can be prepared according to needs. It is easy to operate without special additives, operation process and special equipment.
2. When mixed with fertilizer, aromatic ring compounds, adenine and other plant growth regulators are not compatible with micro fertilizer, so special solvents, additives, chelating agents and complex processes are required. D2 (butylene diester) can be directly mixed with N, P, K, Zn, B, Cu, Mn, Fe, Mo, etc. it has good compatibility, does not need additives such as organic solvents and additives, is very stable, can be stored for a long time, can improve the assimilation ability of plants, accelerate the absorption and utilization of fertilizer, can increase the fertilizer efficiency by more than 30% and reduce the fertilizer consumption by more than 10%. Its synergistic effect is more than 10% higher than that of other synergists.
3. When combined with all fungicides, D2 (butylene diester) is a weakly acidic substance, which can be combined with fungicides and has obvious synergistic effect. It can increase the efficiency by more than 30% and reduce the dosage by 10-30%. Experiments show that D2 (butyrate) can inhibit and control a variety of plant diseases caused by fungi, bacteria and viruses.
4. When used in combination with insecticides, D2 (butylene diester) is an acidic substance. When combined with insecticides, it can increase plant growth and enhance plant insect resistance. And D2 (butyrate) itself has a repellent effect on molluscs (such as cotton bollworm, cabbage worm, etc.), which can kill insects and increase production, so as to achieve the effect of killing two birds with one stone.
5. It can be used as a Herbicide Antidote (safety agent). The test shows that D2 (butyrate) has detoxification effect on most herbicides. When combined with herbicides, it can effectively prevent crop poisoning without reducing the effect of herbicides, so that the herbicides can be used safely. For poisoned crops, D2 (butylene diester) can be used for detoxification, so as to quickly restore the vitality of crops and reduce economic losses.
Dosage: leaf spray 10-50ppm, flushing and drip irrigation 10-50g.
More Products